Harder, Better, Faster, Stronger
Fr. Jonathan Blake, Spiritual Director
Reflections on the 2015 Army Run.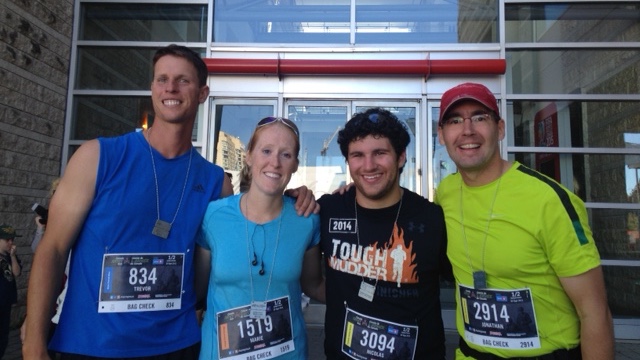 How about a little theology à la Daft Punk?! "Harder, Better, Faster, Stronger" is a song by French duo Daft Punk. The single was first released on October 13th, 2001. A live version of "Harder, Better, Faster, Stronger" was released as a single from the album Alive 2007 on October 15th, 2007. This version won a Grammy Award for Best Dance Recording in 2009. And, on September 20th, 2015, it was my inspiration as I ran down the streets of Ottawa as I completed my second half-marathon.
The Canada Army Run event has become the fastest growing run in Canada! In less than seven years, the number of participants has more than tripled, from 7,000 in the 2008 inaugural run to more than 25,000 in 2014, and this year as well. This year's theme was, "Strong, Proud, Ready!", somewhat paraphrasing Daft Punk, no?
Anywho, I picked up my BIB on Friday, and greatly enjoyed the atmosphere leading up to my half-marathon. However, back in the summer of 2011 I had surgery on my left knee. They removed it, or rather something floating around in it - don't ask me about all the details. All I know is that I had a difficult time walking for about a year, then - BAM! - I'm a new priest all over again! The truth is - I always hated running! I never understood what all these people were
running from. I later realized they were running towards something! And, in the past couple years, the Ottawa Challenge and Cursillo peeps gave me reason to run again! I fell in love with my new family, and with running!
So, the morning of the Army Run, a few Ottawa Challengers gathered together ready to begin our prayer. I quoted a song, of course, and talked about how running was mentioned over 57 times in the Bible. The scripture quote I shared was from the Letter to the Hebrews (and it also happened to be written on someone's sign on the course):
Therefore, since we are surrounded by so great a cloud of witnesses, let us also lay aside every weight, and sin which clings so closely,
and let us run with perseverance the race that is set before us,
looking to Jesus the pioneer and perfecter of our faith, who for the
joy that was set before him endured the cross, despising the shame,
and is seated at the right hand of the throne of God.
Hebrews 12:1-2
The Epistle to the Hebrews, or Letter to the Hebrews, is a text of the New Testament. The text is traditionally attributed to St. Paul. Scholars of Greek consider its writing to be more polished and eloquent than any other book of the New Testament. The book has earned the reputation of being a masterpiece. Scholars believe it was written for Jewish Christians who lived in Jerusalem. Its purpose was to exhort Christians to persevere in the face of persecution. The theme of the epistle is the doctrine of the person of Christ and his role as mediator between God and humanity.
St. John Paul II once shared in a homily (October 29, 2000) that, "Playing sports has become very important today, since it can encourage young people to develop important values such as loyalty, perseverance, friendship, sharing and solidarity. Sports have spread to every corner of the world, transcending differences between cultures and nations. Because of the global dimensions this activity has assumed, those involved in sports throughout the world have a great responsibility. They are called to make sports an opportunity for meeting and dialogue, over and above every barrier of language, race or culture. Sports, in fact, can make an effective contribution to peaceful understanding between peoples and to establishing the new civilization of love."
After the race, I felt on top of the world, on top of Mt. Everest, on top of the Transfiguration mountain, surrounded by 10 000 people cheering me on. However, the bestest part of it all was that my family was there to encourage me, indeed, we encouraged one another to persevere in the race of holiness, to know God better, to love Him more, and to follow Him more closely.
The theology of sports can help us to see the face of God. And other times, unfortunately, it can hide Him. Running has helped me to know myself better, and to grow in the two greatest commandments – love God, love neighbour! To quote the NBA MVP for 2015, Stephen Curry, with the Golden State Warriors:
"There's more to me than just this jersey I wear, and that's Christ living inside of me." So, whether it is for running, basketball, sports in general, or your way to perfection: harder, better, faster, stronger!
St. John Paul II, pray for us!
De Colores